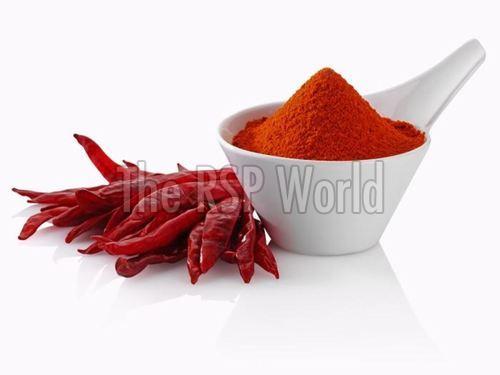 In India, spicy food is everyone's favorite food. Red chilies are the most used flavor in preparing any Indian food. It is one of the most used spices in India. Be it Indian curries, deals, or any spicy dish, red chilli powder is added for giving the dish a beautiful rich color and add a nice flavor. But there are a few things about which one must be very careful before while buying any red chili powder in India.
Most suppliers in India say that their red chili powder is 100% organic and pure but there are maximum companies that supply chili powder adulterated with salt powder or brick powder. Some are even mixed with artificial colours that match the colour of the red chili powder. Also, for adding bulk to the powder, sometimes even starch is added to it.

Red chili is probably the most used spice in the Indian kitchens. Choosing the right organic red chilli powder suppliers India is very important. As it is one of the main ingredients in maximum Indian dishes. Among the various other spices, chilli powder is the most used in Indian curries and dishes.

Previously there was the usage of the pure homemade chili powder, which was made by Sun-dried red chilies pounded and powdered finely and then stored for usage. But now as we have all shifted to the packaged chili powder because it's more convenient to use, therefore the chances of forging and quality of the product has also decreased.

Here are a few tests which you can do to check whether you are using the organic red chili powder supplier India or is the supplier supplying adulterated products.

Water Test-

Mostly chili powder gets adulterated with salt powder, brick powder or talc powder. The easiest way to check these is by adding a teaspoon of red chili powder into a glass of water. If the water starts becoming reddish-brown or starts changing colour, that means the chili powder is not organic and it has been mixed with brick powder, but if the water doesn't change any colour and the powder doesn't dissolve with the water then you can know that you have chosen the organic red chili powder suppliers India. As pure red chilli powder doesn't completely dissolve in water.

Check if starch is added to the chilli powder-

For adding bulk to the red chili powder suppliers often add starch in it. For testing the presence of starch in it, all you have to do is add some drops of iodine solution or tincture iodine to powdered spice. If a blueish colour appears then you know there is the presence of starch in it. And you get to know the declared organic red chilli powder suppliers India are not supplying organic red chilli powder.
These are the two tests that anyone can do at home to detect whether their preferred chilli powder supplier is supplying them the authentic product or not. Do these tests and then choose the best organic red chilli powder supplier India.


This entry was posted on March, 02, 2020 at 11 : 13 am and is filed under Red Chilli. You can follow any responses to this entry through the RSS 2.0 feed. You can leave a response from your own site.